Theory book + TheoryTopics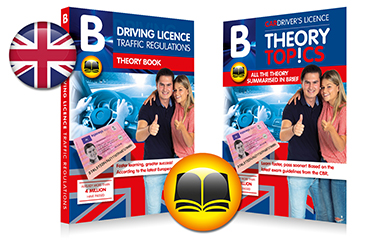 Inhoud Theory book + TheoryTopics
Auto theorieboek en TheorieTopics Engels
Specificaties Theory book + TheoryTopics
Take advantage of this great low cost package of car theory book with summary.
You will receive the most successful car theory book in the Netherlands, covering all subjects in the CBR theory test in clear language. The set also includes a clever summary that covers the most important subjects to get you through the CBR theory test.
We will send you the car theory book and car summary no later than the next working day by post.
The car theory book with some 250 pages describes all the subject matter you need for your CBR theory test.
The 14 sections guide you through all CBR test subjects step by step. The subjects are covered clearly in simple language so you easily learn the CBR theory test subject matter.
There are also many photographs and illustrations in this car theory book as a valuable addition to the written texts.
The summary contains a shortened version of the whole theory book that covers the subjects essential for the CBR theory test. There's no need to make notes in your theory book. Just read through the most important sections straight before your CBR theory test.

Please note that the TheoryTopics will be delivered in another cover.
With this car theory book and car summary set you will be ideally prepared for your CBR theory test.
Bestellen