Theory book + 15 hours Internet exam training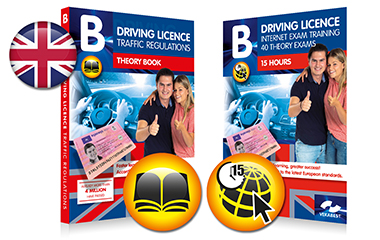 Inhoud Theory book + 15 hours Internet exam training
Learning to drive - theory book
15 hours internet exam training - car
Specificaties Theory book + 15 hours Internet exam training
This set contains the 'Learning to drive' theory book in English and you get 15 hours of access to practice questions per topic, selected difficult test questions and 40 full test training sessions with this online test training package.

Vehicle Theory Training comprises the following as does the CBR rest: Hazard Recognition, Traffic Rules (knowledge) and Traffic Insight (knowledge+).

Hazard Recognition is to notice, recognise and predict possible hazardous situations on time and acting correctly in order to prevent or avoid the hazard. Traffic Rules (knowledge) involves actual naming and recognising. Traffic Insight (knowledge+) tests your knowledge and skills in recognising risks in traffic situations when compared to other road users.
Please be advised that the Internet exam training is delivered without audio.

After you have completed your purchase, you will receive the login code for 15 hours of exam training by e-mail. The theory book will be send through regular mail on the next working day.
Bestellen