Initial qualification C International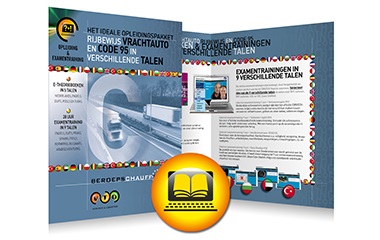 Inhoud Initial qualification C International
Digiboek Boekvertalingen Vrachtauto 180
Digiboek RV1 V MULTI 180
Digiboek RV1 T MULTI 180
Digiboek R2V2V3C MULTI 180
7 uur online examentraining RV1 Verkeer (int)
7 uur online examentraining RV1 Techniek (int)
7 uur online examentraining V2 vrachtauto (int)
7 uur online examentraining V3 vrachtauto (int)
Specificaties Initial qualification C International
You can get to work on your lorry theory with this international version of our lorry (category C driver's licence) self-study package. You then prepare yourself the professional C1 or C driver's licence with Code 95. And because this is an international version of the package, we present different parts in a foreign language.
First of all this package gives you access to an internal portal with 3 e-books. Learning on your tablet or laptop is then more interactive and enjoyable! These books are written in Dutch, English, German, Turkish and Polish.
You can also get down to work on current and realistic test training. This concerns RV1 traffic, RV1 technical, V2 administration and V3 cases. You can exercise for no fewer than 7 hours for each of these subjects. This test training involves different languages, including Dutch, English, German, French, Spanish, Polish, Romanian, Bulgarian, Arabic and Turkish.
You need an online code that you immediately receive by email after payment.
Bestellen