Theory book Motorcycle + 15 hours Internet exam training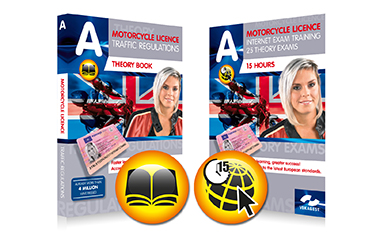 Inhoud Theory book Motorcycle + 15 hours Internet exam training
Theory book Motorcycle
15 hours internet exam training - motorcycle
Specificaties Theory book Motorcycle + 15 hours Internet exam training
This set contains the 'Theory book Motorcycle' in English and 15 hours of Internet exam training to prepare yourself for the CBR theory test.
You will have access to 25 realistic and up to date theory exams.
Please be advised that the Internet exam training is delivered without audio.

After you have completed your purchase, you will receive the login code for 15 hours of exam training by e-mail. The theory book will be send through regular mail on the next working day.
Bestellen